Paternity Rights
We've all heard stories of "Deadbeat Dads" who fathered a child or children and then abandoned them and the mother. Until recently, one could argue that fathers didn't have many rights in the eyes of the court. 
Often it was presumed 'the child is better off with the mother' and fathers were told how much to pay and when they could see their child.  
Times have changed, and more and more fathers are stepping up to assert their paternity rights to have a say in their child's upbringing.
In an article published in the Journal of Marriage and Family (2015), a study found that many of the fathers who were "cash-poor" were making significant in-kind contributions providing items such as baby products, clothing, paying for school expenses, food, and many preferred to give gifts directly to the child rather than give money to the mother. The study suggested that more fathers wanted to be engaged and active in their child's life.
As more fathers attempt to assert their paternity rights, laws, particularly those in Florida, are changing. DNA has made it easier to establish who the paternity of a child, and this information not just important to the parents, but it is very important to the child.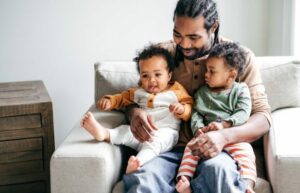 Why is it Important?
Today, more and more couples have children out of wedlock. Some pregnancies are planned, and some are not. While both parents have rights to the child, what is best for the child must remain at the forefront. Paternity is important to: 
Establish child support

Provide health insurance for the child

Provide medical history

Schedule parenting time

Determine decision-making authority

Determine right to Inheritance 
Situations Where You Want to Establish Paternity:
Married fathers who have to prove paternity if another man asserts that he is the father

Unmarried fathers are not legally acknowledged as the child's father until they or the mother petition the court for acknowledgment

In cases of paternity fraud where a mother deceives a man into believing he is the father
What You Need to Know
You have until four years after the child reaches 18 years old to file a paternity action

If you're not married, having your name on the birth certificate is not enough to establish paternity. If there is no agreement, you will need to file a Petition to Establish Paternity with the court to be recognized as the child's legal father

If paternity has not been established nor agreed upon and the mother files a Petition to Establish Paternity, she can request back child support going back two years from when the petition was filed.
How to Establish Who the Biological Father is In Florida
Both the mother and the father can sign an Acknowledgment of Paternity form, in which both parties are stating under oath that the supposed father is the child's true legal father. By signing the form, both parents agree they will be responsible for the child's financial and medical support until the child is an adult. This form should only be signed if you are both absolutely positive who the father is

Absent an Acknowledge of Paternity and neither party agrees on paternity, the mother or the man who believes he is the father can file for a court order to establish paternity
Who Can File A Paternity Action in Florida?
Under Florida statutes, a paternity action can be started by:
The mother of the child

The man who believes he is the father

A legal representative acting on behalf of the child

The Florida Department of Revenue (for purposes of establishing child support only)
If you need guidance…
Establishing paternity rights in Florida can be a complicated matter. The Campbell Law Group is here to help. 
---
 "Journal of Marriage and Family – Wiley Online Library."

https://onlinelibrary.wiley.com/doi/abs/10.1111/jomf.12188

. Accessed 4 Nov. 2019.